Foot-Combat Armor of Prince-Elector Christian I of Saxony (reigned 1586–91)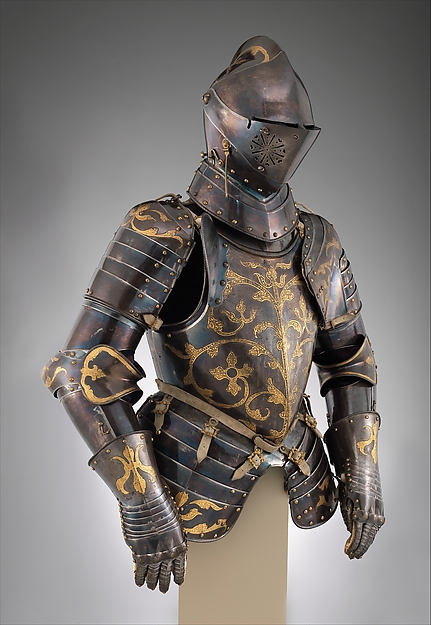 This is one of a set of twelve matching armors for use in foot combat commissioned in 1591 by Sophie of Brandenburg as a Christmas gift for her husband, Christian I (reigned 1586–91). These armors are among the last commissions of Anton Peffenhauser, the leading Augsburg armorer during the second half of the sixteenth century.

Combat on foot between contestants separated by a waist-high barrier was a popular sport in European courts of the sixteenth and seventeenth centuries. It could be staged indoors or out and was fought with pikes and swords. A prescribed number of blows was allowed with each weapon. The presence of the barrier and strict rules prohibiting strikes below the belt made leg armor unnecessary.
Armorer:Anton Peffenhauser (German, Augsburg, 1525–1603)
Decorator:Decoration attributed to Jörg Sorg the Younger (German, Augsburg, ca. 1522–1603)
Date:1591
---